Quite simply – we are one family building for your family. McFarren Construction is a family owned and operated business based in Cincinnati, Ohio. We have been fulfilling our client's needs for over twenty years in the Tri-State area.
George McFarren is president and owner of McFarren Construction and McFarren Home Maintenance. He has more than 20 years experience in custom home building, remodeling and land development in the Greater Cincinnati market. At a young age, George was exposed to the homebuilding business and what it takes to be successful in the home building industry.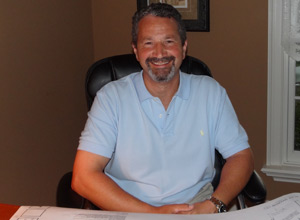 George worked in his father's homebuilding and remodeling business in Massillon, Ohio. It was there that he found a love for construction and home building. George attended Youngstown State University and the University of Cincinnati majoring in business. It was while studying at the University of Cincinnati that George met his wife Jennifer which lead him to officially become a Cincinnatian. Utilizing all the skills he learned from his father and his university studies, George had an opportunity to work for his father-in-law, a prominent Cincinnati homebuilder. And of course, as a life-long entrepreneur, began McFarren Construction in 1992. George McFarren has always been extremely involved in all aspects of the homebuilding process. From discussing your vision to the final walk-through, we're here to offer every bit of expertise we have gained over the years. George McFarren will be with you every step of the way, because when you purchase a custom home or handle a remodeling project, you become one of our family!
George McFarren adds, "The most rewarding part of my job is being able to start with nothing more than a client's dream and see it fulfilled in the form of a beautiful home that will become such an important part of their lives over a long period of time. One of the most important aspects of that is listening to our clients' dreams and objectives so that their vision becomes our vision on each and every home."